Our Broadway San Jose Safe and Clean Commitment
Updated Aug 13, 2021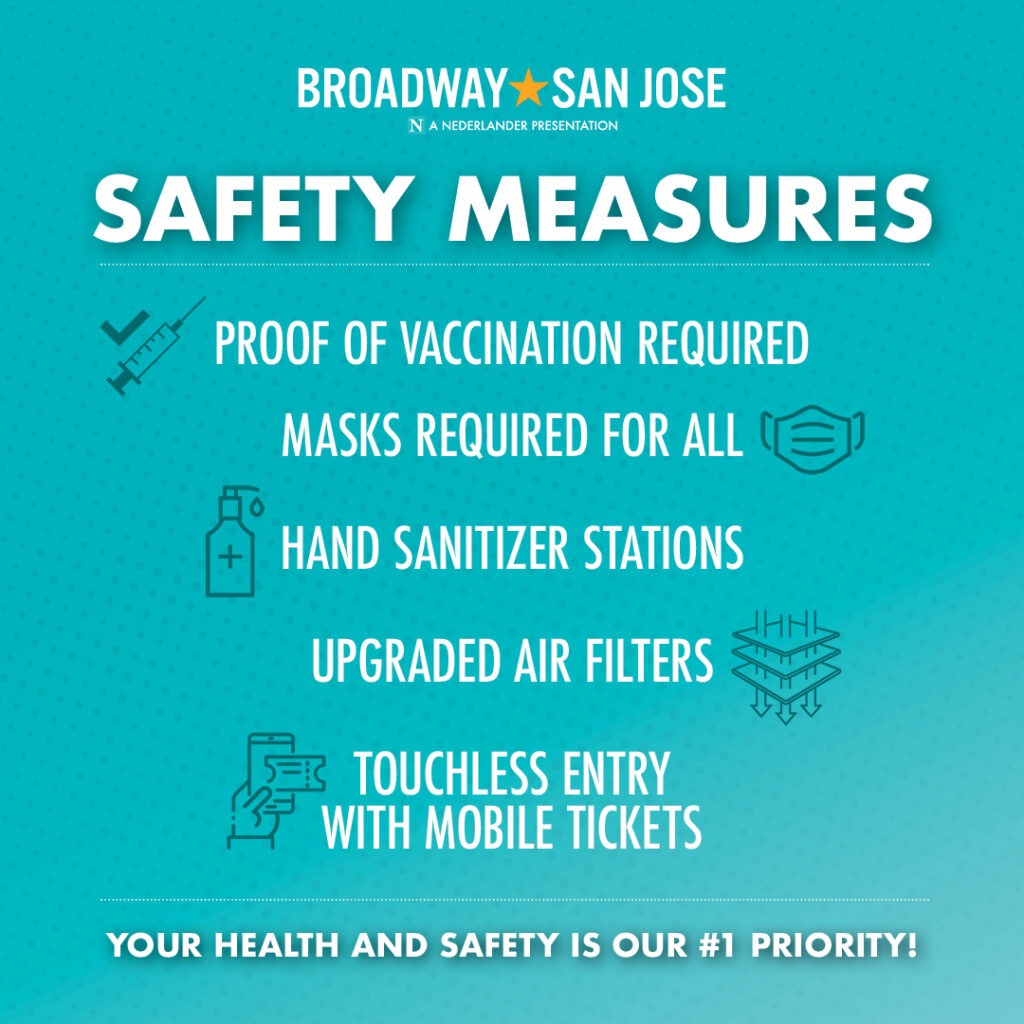 TICKETHOLDERS REQUIRED TO SHOW PROOF OF VACCINATION TO ATTEND HAMILTON & ALL BROADWAY SAN JOSE EVENTS
Broadway San Jose asks our audiences to join with us in providing the safest space possible for patrons, cast, crew, and staff as we again raise the curtain in the room where it happens. Our updated COVID-19 policy requires ticketholders to be fully vaccinated against COVID-19. "Fully vaccinated" means your performance is at least 14 days after your final vaccine dose. To enter the theatre, please bring a photo ID and proof of vaccination, either your physical vaccination card, a picture of your vaccination card, or a digital vaccination record. All California residents may request a digital vaccination record at MyVaccineRecord.cdph.ca.gov.
Guests under age 12 or those who need a reasonable accommodation for medical reasons or due to a sincerely held religious belief must provide proof of a negative COVID-19 PCR test taken within 72 hours prior to entering the theatre. Children under 5 will not be admitted to the theatre.
Masks are required for all ticketholders, regardless of vaccination status. Masks must be worn at all times, except when eating or drinking in designated areas. CLICK HERE to see a list of acceptable masks.
This vaccination policy is in effect for performances now through December 31, 2021, and will be re-assessed on an ongoing basis. A policy update for performances after December 31, 2021, will be posted at a later date.
For questions regarding this policy, please email Info@broadwaysanjose.com.
---
ADDITIONAL SAFE AND CLEAN INFORMATION
---
As Broadway San Jose looks to our future reopening, the health and safety of our Patrons and our Community is the highest priority. Our Broadway San Jose Safe and Clean Commitment was designed to enhance safety and minimize risk for our Patrons, the Cast, Crew and Performers of the national tours we host, and all of our Broadway San Jose Team Members. It ensures the hygiene and sanitation practices of our Theatres meet or exceed regulatory requirements and the recommendations of the Santa Clara County Department of Public Health. This commitment also includes new cleanliness protocols that meet or exceed our already rigorous standards.
By closely monitoring industry and government guidance regarding the COVID-19 virus, including information supplied by the California Department of Public Health, Centers for Disease Control and Prevention and the Santa Clara County Department of Public Health, we are implementing additional guidelines and procedures for personal protection, ventilation, and cleaning with an emphasis on the prevention of transmission of respiratory illnesses.
These protocols are based on the most current information available for the live entertainment venue industry, as well as other pertinent industries. As we move forward, we will continue to monitor guidelines from the CDC, state and county, for the latest public health guidance to continually update these procedures.
Our Broadway San Jose Safe and Clean Commitment covers all of the lobbies, seating areas, stage, backstage, concession areas, and administrative offices at Broadway San Jose.
Examples of our enhanced health and safety protocols are:
• Request that guests and staff to stay home if they are feeling ill
• Enhanced air filtration utilizing MERV 13 filters and maximizing outside air
• Easy access to handwashing facilities and hand sanitizers for guests and staff members
• Training for all staff members on safe and clean procedures including frequent cleaning and monitoring of all high-touch areas before, during, and after show.
---
To find a COVID-19 vaccination site near you, CLICK HERE.
---